The Emsdetten's railway station
In the 1970ies the exterior of the station building changed extremely, the outer walls were roughcast and painted. This appearance remained for approx. 35 years. The "Deutsch Bahn" neglected the station building. In 1999 the municipality of the town of Emsdetten decided to give the station and the direct surroundings a more attractive appearance. Emsdetten's station was taken up in the list of modernization measures "100 Bahnhöfe" of Northrhine Westfalia and the Deutsch Bahn, and the reconstruction began in 2006. A bus station was constructed, a subway, a bicycle station and a very special type of roofing. The extraordinary coloring contrasts clearly with the conventional expectations; the interior of the station building was completely reconstructed. One could say: Resurrected from ruins. Today the station building presents itself as an attractive building to all travelers and citizens. The character of the station restaurant also distinguishes itself pleasantly from many other station restaurants.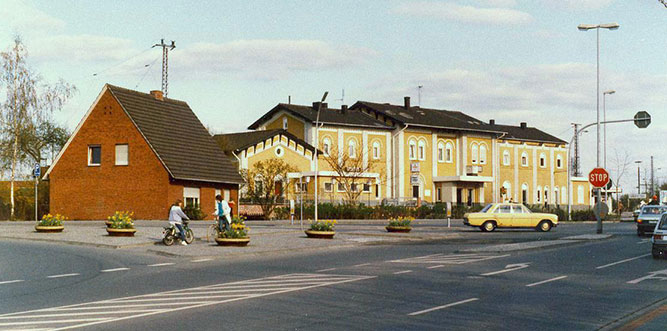 The station building in 1976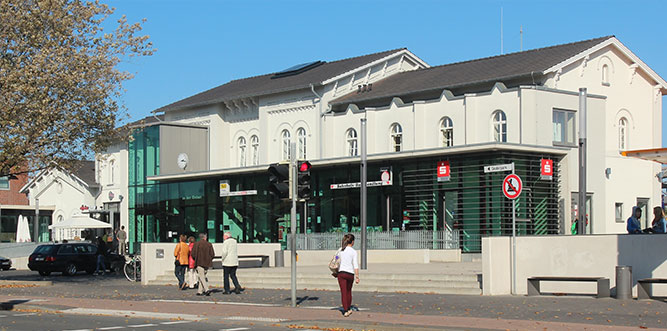 The station building in 2012
One of the most important requirements for the industrialization in Emsdetten was the connection to the railway lines, as in 1853, Rheine was made an official railway junction. From here different towns, e.g. Emden (in the north), Münster (in the south), Osnabrück (in the east) and Holland (in the west) could be reached. The exact positioning of the railway lines between Münster and Rheine had not yet been fixed. Two possibilities were in discussion: via Burgsteinfurt/Neuenkirchen and via Emsdetten/Greven. Emsdetten's municipality argumented mainly with the shorter and more direct distance compared with the alternative via Burgsteinfurt and also with the expected transport of products from the local weaving factories – more or less the last hope for the very poor Emsdetten.
The to and fro between the two positioning continued, even the Prince of Steinfurt intervened and brought the work on the railway lines to a halt. However, in the end, Greven and Emsdetten were in the better position. The work in Emsdetten began in spring 1854.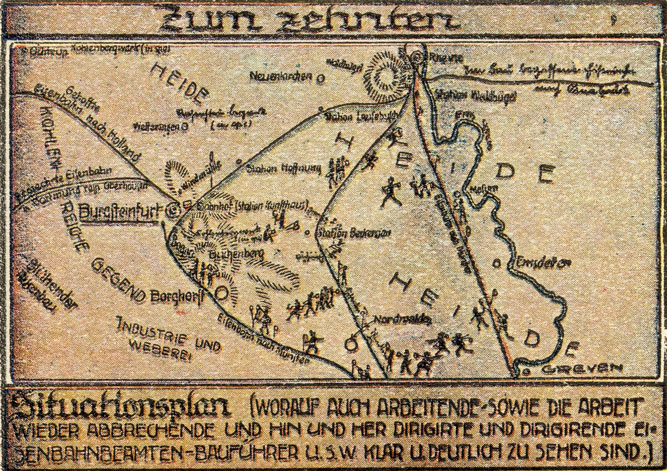 The pictures shows the different ideas for the connection between Münster-Rheine
Authors of this article:
Dieter Schmitz, Willi Colmer
Source:
Colmer, Willi,
Ortsgeschichte vom Mittelalter bis zum 20. Jahrhundert,
Emsdetten 2003, S. 310-314
Schmitz, Dieter,
Die Eisenbahn in Emsdetten,
Emsdetten 2010, S. 64-78
Abbildungen
Fotosammlung Heimatbund Emsdetten
Sammlung Dieter Schmitz